When do Patients Want Appointments?
We are introducing a new series of blog posts based on our analysis of 24,000 cancellations that QueueDr has seen in the last couple months. These are only cancellations and doesn't include no-shows. These posts will provide insight on scheduling, optimization, patient behavior, and the crazy world of healthcare. Enjoy!
We recently wrote Friday has the most cancellations. That got us wondering, if patients don't want appointments on Friday, when do they want appointments? Put another way, what day of the week are patients clamoring to see the doctor on?
Our Methodology
To judge if there are certain days of the week where patients are clamoring to see the doctor, we will look at two factors. First, are there days of the week where patients reply quicker to an open appointments? This will be represented by median fill time. Second, are patients more likely to fill an open cancellation on a certain day of the week? This will be represented by fill rate.
What We Found

Thursday is the Winner: Thursday appointments had the fastest fill time by 17% over Wednesday and 33% over Fridays! Thursday appointments had only a 5% lower fill rate than Tuesday despite being in 3rd place.
Patients Don't Like Fridays: In addition to having the most cancellations, Friday has the slowest fill time and second lowest fill rate. No surprise here, Friday isn't popular except for post-work activities!
Tuesdays are Curious: Tuesdays have the second slowest fill time (32% slower than Thursday), but have the highest fill rate. One measurement says it's a desirable slot, another disagrees. Not quite sure what to make of this!
What to do with this information?
Data is only good if accompanied by concrete recommendations. Here are a couple things we've seen great practices do: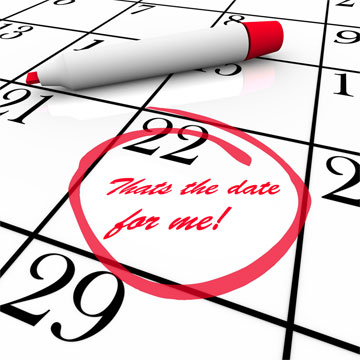 1) Dynamic Scheduling on Attractive Days: Many practices want to try dynamic scheduling after reading about it's benefits but it can seem like a scary undertaking. Dip your toe in and try dynamic scheduling on Thursdays by leaving a couple appointments open on Thursday for the patients who will inevitably call-in.
2) Tell Patients to Call Back on Non-Attractive Days: While we don't recommend having patients call back for earlier appointments (that's why QueueDr exists), if you must, tell them to call back on Fridays. It's when you will have the most cancellations and the lowest fill rate. It'll be your little secret!
3) Tell Patients Booking about This Data: When a patient is booking an appointment, try mentioning that their appointment has a high probability of them cancelling it. That information will hopefully encourage them to prove you wrong with the patient showing up!
Summary
Every day at an office is different, which is why we try to find repeating patterns to better help your practice be more productive. If you missed some of our other articles in this series check them out here and here.
Patrick from QueueDr
PS – the amazing picture at the top of article was created by someone at WSJ for this article. They deserve tons of praise, it's an awesome graphic.